Buy your own "The Steps in Love" copy!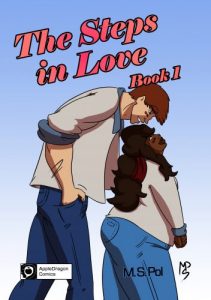 Hey! Are you a fan of the love of Cage and Yani? Can't stop to read their romance over and over again?
Well, you can now buy your own copy of the first book of The Steps in Love! The book contains the first 3 chapters of the story (Step 0, 1 & 2) and extras like 7 (color) illustrations and many sketches!
An e-book and a paperback version are now available on Lulu.
Important reminder! The paperback version of Lulu is in greyscale. Getting the color would cost too much. The e-book however does contain the illustrations in color.
Are you interested and/or preferring a copy with the illustrations in actual color? Then you'll have to wait till a pre-order forms appears. Don't worry. It'll be boosted everywhere on social media. So keep a close eye on that.
Thank you all for reading and loving the comic!